When it comes to gauging North Americans' feelings and opinions about retirement life, Canadians tend to have a more upbeat attitude when compared to their neighbours to the south.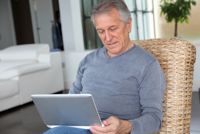 According to a recent poll conducted by Leger Marketing on behalf of BMO Financial Group, Canadians generally are more confident and optimistic about retirement than Americans. For example, 60 per cent of Canadians are satisfied with their ability to save for retirement and the lifestyle they will have, which contrasts sharply with the 40 per cent of Americans who express the same sentiment.
That's not to say Canadians believe they're fully prepared for retirement, however. The poll also discovered that more than two-thirds - 71 per cent - of Canadians had concerns about their Registered Retirement Savings Plan. However, considerably more Americans were anxious about their retirement accounts, as 90 per cent of Americans said as much.
Tina Di Vito, head of the BMO Retirement Institute, said how Canada's economy has fared when compared with America's may explain the sharp differences.
"Despite the effect that the 2008 global recession had on investors' abilities to save for retirement, the Canadian economy has fared significantly better than what's been seen in the U.S.; this has contributed to our more optimistic outlook," said Di Vito.
At the same time, however, she noted that despite Canadians' more sanguine attitude toward retirement, nearly half of those polled said they may have to delay their retirement due to insufficient savings, whether that's from life insurance, an RRSP or a 401k. Approximately 50 per cent of Americans polled said they were considering delaying retirement.
For some, an inability to save for retirement may stem from Canadians' difficulty picturing what that period of their life will look like.
TD Canada Trust recently conducted a poll of more than 1,000 Canadians between the ages of 25 and 64. When respondents were asked whether they could picture their retirement in their mind's eye, only 16 per cent said they had a clear image of it.
Andrea Phillips, vice president of retail savings and investment for TD Canada, said this suggests many people have not properly prepared.
"You need a plan to know how much money you need to save to make sure that it lasts throughout your retirement," said Phillips. "When you're working hard to cover your day-to-day expenses, it's understandable that your retirement seems a lifetime away and planning for it is not your top priority. But, don't procrastinate; the more time you give yourself to save, the better off you'll be."
Interestingly, despite being decades away from retirement age, 21 per cent of Canadians in their 30s report contributing the maximum amount of money to their RRSPs every year. Just 12 per cent of 40-year-olds and 14 per cent of 50-year-olds report doing the same.