The province of Newfoundland is rocky, windy, majestic and absolutely gorgeous. Make it a point to visit the province and at least one of the 20 provincial parks. Here's a rundown of each park by region.
Western Region of Newfoundland
The western region of Newfoundland covers the Great Northern Peninsula, and stretches across the southwest shores of the island from Port-Aux-Basques to Burgeo. There are 9 parks in the region.
Day Use Parks The Arches

Location: Just off the Northern Peninsula Highway, north of Gros Morne National Park.
Use: Day use
Season/Hours: Open Early June to mid-September.
Amenities: Pit toilets
Things to do: The park is small, but not to be missed. Thousands of years of tidal action against limestone have created a natural rock archway that is awe-inspiring.

Summer: Picnicking
Winter: Closed

Useful Links:

Codroy Valley
Codroy Valley is at the mouth of the Grand Codroy River, with a great view of the Long Range Mountains.
Camping and Day Use
Barachois Pond Provincial Park
3500 hectares of parkland in Western Newfoundland
Blow Me Down Provincial Park
A scenic vista located on a peninsula between Lark and York Harbours, where you can get a great view of the Blow Me Down mountains and the Bay of Islands.
J.T. Cheeseman Provincial Park
A natural getaway located on the Cape Bay barrens.
Pistolet Bay Provincial Park
Pistolet Bay Provincial Park's proximity to the Strait of Belle Isle and its fascinating geological history has blessed it with a diverse ecosystem.
Sandbanks Provincial Park
Named for the beautiful sand dunes and gorgeous beaches, Sandbanks is a great destination for families.
Sir Richard Squires Memorial Provincial Park
The park, which is the oldest provincial park in Newfoundland, is on the Humber River and a popular place for salmon fishing.
Labrador Region
Labrador is the mainland portion of the province, bordered to the west and the south by Quebec. Labrador has one provincial park, Pinware River, in the southern part of Labrador.
Pinware River Provincial Park
Eastern Region
The eastern region of Newfoundland stretches from the Bonavista Peninsula to the Burin Peninsula. There are 4 parks in this region.
Day Use - Eastern Region
Deadman's Bay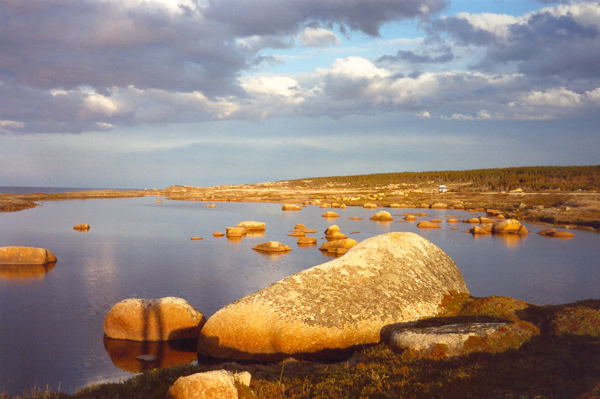 Dungeon Provincial Park
Camping and Day Use - Easter Region
Frenchman's Cove Provincial Park
Lockston Path Provincial Park
Avalon Region
The Avalon Region is the east section of the island, including Placentia Bay, Conception Bay, and over the city of St. John's. There are 5 parks in the region.
Day use - Avalon Region
Cataracts Provincial Park
Chance Cove Provincial Park
Gooseberry Cove Provincial Park
Camping and Day Use - Avalon Region
Butter Pot Provincial Park
La Manche Provincial Park
The La Manche Valley is known for its diverse flora and fauna, making it a destination for many people each year.
Central Region
Central Newfoundland is a spectacular place to watch whales and icebergs. There are two parks in this region, both open for camping and day use.
Dildo Run Provincial Park
Notre Dame Provincial Park
This is the place for family fun and adventure.
By: Kim Morrisseau