The automobile has been a vital part of Canadian life for more than 100 years. Many people have taken cross-country road trips across this land, carted their children off to early-morning hockey practices, and gone for leisurely drives through the countryside. Across Canada, there are people who, through their passion for everything car-related, have opened their collections to a very appreciative public. Here are some of the best car museums in Canada.
Canadian Automotive Museum
Oshawa, where the Canadian Automotive Museum is located, is a big player in the automotive industry. The museum explores the history of the Canadian automotive industry, and its growth in the future. Since 1961, the museum has dedicated itself to also collecting motorcycles, bicycles and trucks, along with other mechanical devices that have made life more convenient. Vehicles from 1898 to 1981 are on display, and include cars from Canadian manufacturers such as Brooks Steam, Brockville Atlas and Gray-Dort, and foreign manufacturers such as Rolls Royce, Morris, and Amphicar.
Location: 99 Simcoe Street South, Oshawa, Ontario
Manitoba Antique Automobile Museum
The Manitoba Antique Automobile Museum has a vast collection of antique automobiles from the estate of local farmer Isaac Clarkson. With a collection of around 100 cars, and an extensive collection of car-related artefacts, the museum is a bright spot on the Trans-Canada Highway. Some of the cars on display include a 1921 Briscoe, Hupmobiles from 1909 to 1916, a 1968 Meteor, and a 1912 Cadillac Fire Truck used in WWI.
Location: Box 477, Elkhorn, Manitoba. (On the Trans-Canada Highway west of Brandon)
Website: mbautomuseum.com
The Canadian Transportation Museum
The site of the Canadian Transportation Museum is also home to Heritage Village, which celebrates the history of the Kingsville area. There are not only cars here, but also horse and oxen-drawn carts, fire trucks, and penny farthings. See an 1893 internal combustion engine, early century gas pumps, and cars such as a 1906 Buick, a 1946 Chrysler Town and Country Convertible, and a 1992 Viper.
Location: 6155 Arner Townline, County Road 23 RR#2 Kingsville, Ontario
Horseless Carriage Museum
The curators at the museum call themselves "Purveyors of Mechanical Antiquities", and rightfully so. Everything at the museum is from the private collection of an area benefactor, the Bennett Family. The museum displays vehicles such as the 1899 Stanley Steam Car, 1905 Model TT Ford Truck, and an 1893 Sawyer & Massey. Other "mechanical antiquities" on display include an 1890's Victorian Baby Carriage and an 1880's Polyphon. If you are going to visit, call them first, as they are not open all the time.
Location: 1427 County Road 8 Fenelon Falls, Ontario
Vernon's Antique Toy Shop
At Vernon Smith's museum, it is truly about the cars. Many of the vehicles are low production vehicles, so going through the museum is a special treat. The cars and artefacts are from Smith's personal collection. See a 1908 Buick Model 10, Cadillac Eldorados from 1953 and 1954, 1960's Ford Thunderbirds and a 1970 GTO Ram Air Judge. The cars are displayed in a 20,000 square foot space, and - fun fact - the floor of the building is painted to look like a roadway. There is also memorabilia from 1950's garages and diners. It is one of the most extensive collections in Atlantic Canada. Make sure you get there.
Location: 101 Seaview Drive, Swift Current, Newfoundland and Labrador
Website: www.vernonsantiquetoyshop.ca
Musée Saint-Laurent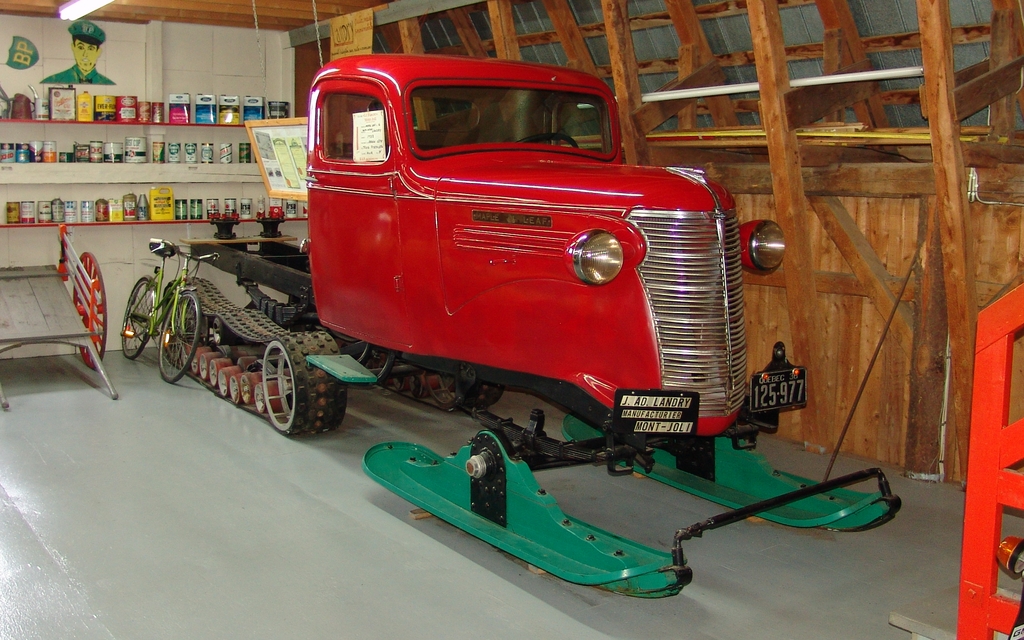 Known as "the biggest automobile museum from Lévis to Gaspé". It is also home to historical farm machinery, and cars such as a1928 Chevrolet Panel, 1933 Packard Club Sedan V-Twelve (the only one in North America) and a 1967 Oldsmobile Cutlass Convertible. All of the vehicles and memorabilia on display are from the estate of Monsieur Adrien Coté.
Location: 552, rue Notre-Dame Ouest, Trois-Pistoles
Website: www.museestlaurent.com
Jim's Vintage Garages at Headingley Heritage Centre
The Headingley Heritage Centre is home to Jim's Vintage Garages. Jim and Vivienne Pearn's collection is the pride of the village of Headingley, Manitoba. The museum has an extensive collection of petroleum industry memorabilia from the early 1900s to the present. All items on display are accompanied by an interactive station that gives visitors an understanding of the history of the artefact. The collection includes such items as gas pumps from the early part of the 20th century; garage facades; a collection of signs from Red Indian Motor Oils, Ford, Dodge and Northstar; licence plates; clocks and other garage stuff; and toys and games that have a garage or car theme. And, just for fun, a GE refrigerator from the 1930's.
Location: 5353 Portage Avenue, Headingley, MB
Canadian Motorsport Hall of Fame and Museum
The Canadian Motorsport Hall of Fame and Museum was established as a away to recognise the many drivers, innovators and builders in Canadian motorsport. Motorsport vehicles from the 1960s to the 1980s are on display. Not only the contributions of those involved in car motorosports, but also contributions to aircraft racing, karting, power boat racing, snowmobile racing and others are on display here. Visitors can see the Hall of Fame, which has 96 inductees including driving legends such as Bobby Rahal and Mario Andretti.
Location: 8220 Fifth Line, Halton Hills, Ontario
Website: www.cmhf.ca
Car Life Museum
Prince Edward Island resident Newton MacKay wanted to make sure the vehicles that were used by islanders were preserved, and worked to ensure that this happened by opening a museum to display his treasures. Now operated by his wife and family, his legacy is appreciated by locals and tourists. The collection ranges from early century farm equipment to roadsters. Visitors to the museum can see fiddler Don Messer's 1951 Hudson Hornet, which he used for band tours; Elvis' 1959 Pink Cadillac and farm equipment including a 1941 Massey Harris Farm tractor. Mr. MacKay's family provide guided tours when available.
Location: 18191 Trans Canada Highway, Bonshaw, PEI
Website: www.carlifemuseum.com
Anywhere you are in Canada, you can visit car collections that were lovingly restored by some very special people. Car lovers - rejoice!!!
By: Daniel Watson